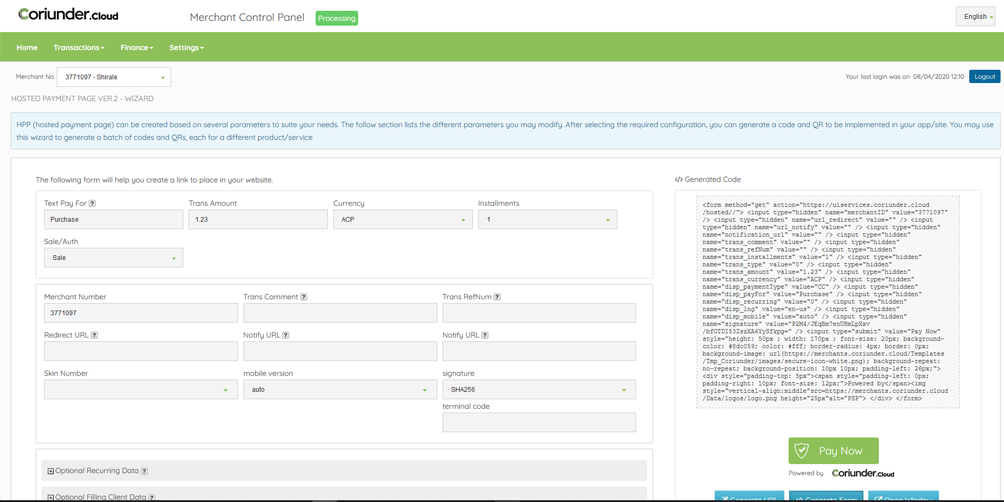 Wizard Payment Page
If you have ever used an online shopping website or an eCommerce site, you may know that there are several steps you have to go through to place your order.
Even on applications of fast food deliveries, there is a defined procedure through which you have to go through one by one to place your order and accept your payment. Different websites and applications have a different number of steps in a separate order.
Payment Pages can be different according to the type of fields that you can request on your payment page and the type of service that your merchant is offering.
Hosted payment pages
Hosted payment pages are also called external checkout, third party checkout, and external payment page.
HPP (hosted payment page) can be created based on several parameters to suit your needs (Such as amount and currency).
It handles all the electronic transactions for your website. Users can input their sensitive data regarding their payment methods on this page with no reason to be worried about, the payment page is secured according to PCI level 1 certification.
Hosted payment pages are essential to start electronic payments on your website or applications, and mostly they are ideal for small to medium-sized merchants who are just beginning.
In a nutshell, you outsource the protection of your data to professionals and can focus on other aspects of your business. You can save time by focusing on your business strategy to make it successful.
Wizard Payment Page
Wizard payment pages are created especially to redirect the user to a secure page where they will enter their payment details and proceed to checkout.
The sales funnel ends here, as this is the final step.
The only thing remaining is for the user to enter their credit card or payment details and proceed. The wizard payment page will enable your customer to open a secure payment page.
Users can be redirected to this page before completing the integration process or without integrating it at all.
The page can be of different between one merchant to another based on your configurations as an admin.
The Wizard payment page can be created based on several parameters to suit your needs and usually, it will include the following attributes: Item price, item currency, personal details (such as phone, email, and address), card details, and more according to your needs.
It's important to mention that collecting as many details as possible regarding your customer will increase your approval rate and it's also recommended by the acquiring banks to send the transactions with as many details as possible.
After selecting the required configuration, you can generate a code and QR to be embedded on your application or website.
You may use this wizard to generate numerous codes and QRs, each for a different product or service that you're offering.
Multilanguage interface
Your business can encounter customers from diverse backgrounds.
Not all these customers understand English. That is why it is necessary to provide the option for selecting different languages for this important interface.
Different users may select different languages. It is smart to have a multilanguage interface as you can come across any customer.
This way, more users will be able to read and understand the payment page, resulting in increased sales. It will also save the loss of a customer if they don't understand English.

Mobile-friendly
Nowadays, most consumers have a mobile phone.
Merchants should be willing to offer appropriate payment methods through mobile apps as well. The interface must be user friendly and easy to navigate around. It should be designed in such a manner that a new customer can quickly adapt and understand your interface.
Simplifying the process with a friendly payment page for mobile will probably increase the merchant's approval rate and the merchant's efficiency.
All of these efforts will result in sales boost and ultimately profit for the business.
Contact us today and check all the features that the Wizard Payment Page can provide you.