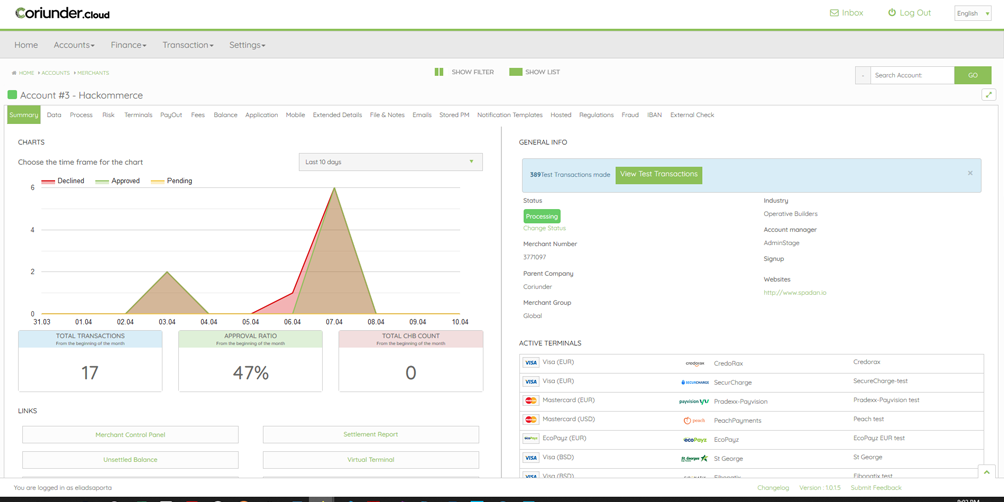 Merchant management
Take full control of your merchants, all the company details, terminal setup, buy rates, and sell rates to understand your margins.
Control all of your relationships with the merchant from one place – emails, notes, files, settings, and more. Each merchant has different tabs from which the admin can control the merchant's permissions and configurations.
When setting up a new merchant it is important to keep track of the data entered and make sure all the necessary information is added. Once you set up the merchant, it is important to set processing permissions, the merchant can integrate either to Hosted Page or to Server to Server.
Hosted Page integration
Hosted Payment Page integration removes the PCI requirements from the merchant and simplifies how new payment methods are added to enable the merchant to accept.
Server to Server integration
In this integration method, the merchant will be using a direct request to perform the actual processing while the user interface is fully managed on the merchant's server. This is "seamless" integration. To allow the merchant to use "Server to Server" ask the merchant to complete an "SAQ-D Questionnaire" – which is a declaration stating that the merchant isn't saving card details on his servers.
Mitigating the risk
The risk rules configurations are worked out to prevent and mitigate the risk exposure from merchants. You can configure risk rules to be applied to different kinds of transactions, in different scenarios.
The system allows the Admin to add customized risk rules. This is divided into two main categories based on the transaction status: Passed transaction, Declined transaction. We have the option to add as many rules as needed and to manage according to Admin and merchant's needs.
We simply click on "add" bottom and setting up the risk rule.
Settlement configuration
The system supports both direct accounts and the "Payment facilitator" modal, in the PF modal the system will handle the full financial aspect of the transaction, from Buy rate to Sell rates and splits to your partners.
Files and Notes
This is a joint storage location for all relevant documentation and notes for the Account onboarding process, upload the relevant documents under the account and, once uploaded you can visit the file again to approve it.
The Approval process is Internal and gives you a better overview of your KYB/KYC process.
Efficiency of onboarding processes and easily managing your merchants are the most important thing for a PSP to work quickly and efficiently. Using the different features in the system and collecting the KYC documents – all in one place – will serve this purpose.